Electronics, Electrical, & Mechanical: System Integration
Electronics: Sensors and Wireless
The Smart Crank can measure and collect torque data
, crank speed,
 crank angle / position
, and heart beat data
, then send it to your smart phone
Sensors:
• Accelerator
• Light
• Motion
• Torque
• Gyro
Network:
• Wireless
• Bluetooth
• WiFi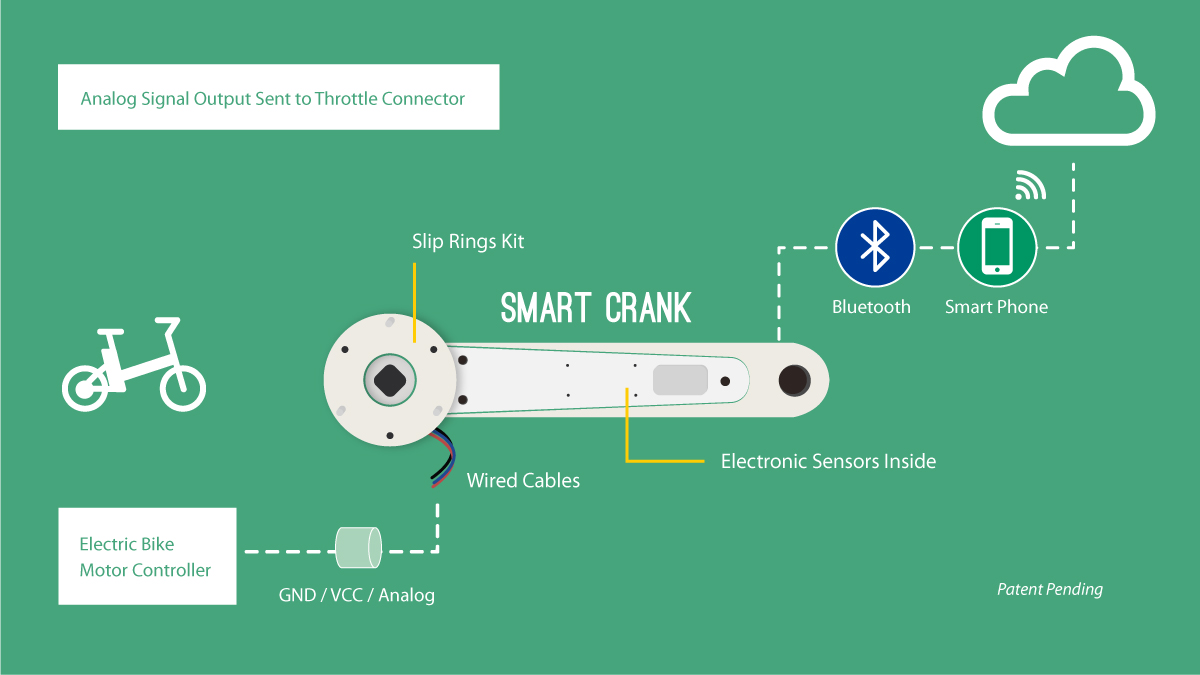 Sensors:
• Accelerator
• Light
• Motion
• Torque
• Gyro
• Heartbeat
Network:
• Wireless
• Bluetooth
• WiFi
Motor Module
The motor module is mainly used for E-bikes, but it also has other applications. Other useful ways you may utilize the motor module include but not limited to opening a heavy-duty door or opening water-gates in a smart farm.
Micro Motor Module
There is also micro motor module available that is much smaller than the normal motor module. It provides the highest torque of any other motor module of its size on the market. It can be used in smart homes or small robotic arms.    
Communication
The motor modules contain wireless technology that uses radio frequency (RF) signals. They utilize Wi-Fi and Bluetooth to connect your smart phone to your devices using the application. You can access and control these devices from your phone remotely, making your life easier.
Use APP to Display and Store Data

 Use Bluetooth to Connect your Phone
 iOS & Android Compatible
 Check distance travelled as well as speed
The Paltorc App gets data from the Smart Crank through BLE Module(Bluetooth Low Energy) and converts it into weight / force, Pedaling RPM speed and crank angle. From the force & speed data, a biker's calorie burned can also be calculated. APP can also be used for microcontroller flash program code updated through Bluetooth without using any hardware tool.
PAS(Pedal Assist System) allows biker to select the right ratio between personal pedaling force and motor output. PAS can be also adjusted for different road conditions for bikers.
The Paltorc GPS App can get bike speed, traveled distance, etc. Stored data can be sent to cloud for big data analysis.
E-Bike LCD Display is no longer required.